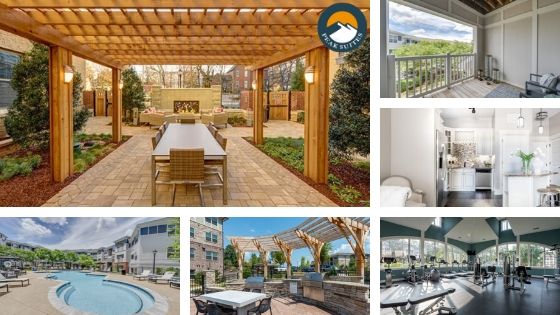 This is all about furnished apartments. They can be a much better option than staying at hotels. Plus, we will let you know about the many benefits (and luxuries) available to you! 
Did you know that in 2019, over 100 companies started (or expanded their business operations) in the Raleigh/Durham area?  That is over 6,600 jobs added and almost half of all of these companies are in Software Development, Pharmaceutical Manufacturing or the Bio-Tech engineering space.  With new job creation comes a need to find highly skilled workers in these fields.  The Triangle has a long list of potential candidates, but many of these positions are filled by candidates outside of the area. This requires that those new hires Relocate!
If you are one of these new candidates that is selling a home, transferring to the area for work, and needing to find a temporary furnished residence while you decide on your permanent home, this blog is for you!
**Please Note: This data was derived from Wake County Economic Development Board annual report for 2019.**
Where do I choose to Stay? (Furnished Apartment vs. Hotel Rooms)
Furnished Apartment Features
Furnished apartments have the ability to be in the area you need them to be at the time you need them.  Need a certain area for commute or for school choices, Furnished Apartments are there
Fixed Location makes it easy to find, but not always where you need it to be.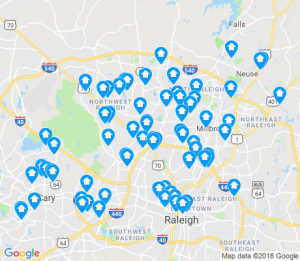 Furnished Apartments: The average size of a 1 bedroom/1 bath is 750 Sq Ft.  Not to mention a full kitchen to cook and serve meals, a private bedroom, and a Washer/Dryer in every suite.
Hotels: Offer an average of 400 Sq Ft of space, 1 or 2 beds with linens and towels and sometimes internet service you have to pay for to use, and let's not even talk about the lack of privacy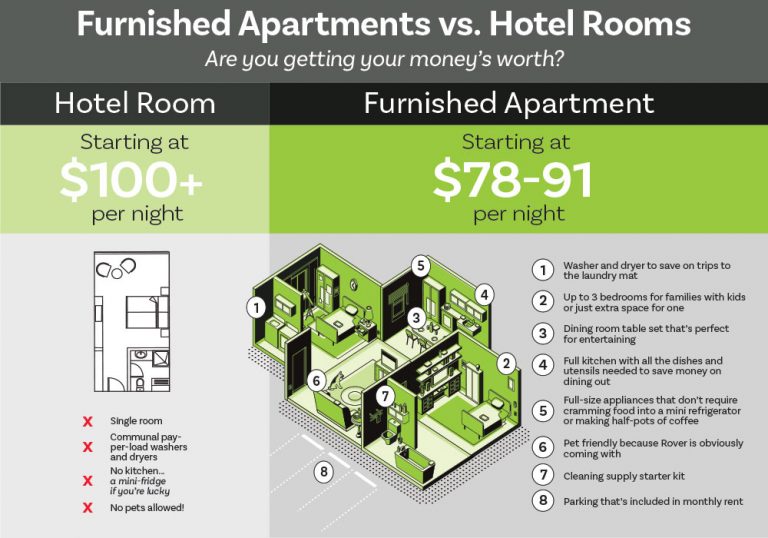 The comfort of your own space to relax, have a family meal, spend time with loved ones is priceless.  All with the best security features on the market.  Secure entry buildings, concierge service accepting deliveries, you will know the meaning of relaxation. 
Hotels do have good security, key cards (to get in and out of the building) and amenities, but the question is will you ever relax, sharing that space with 1-3 other people, in a 400 Sq Ft box? We all know the answer to this.  No meaningful family time, no privacy, no ability to relax fully.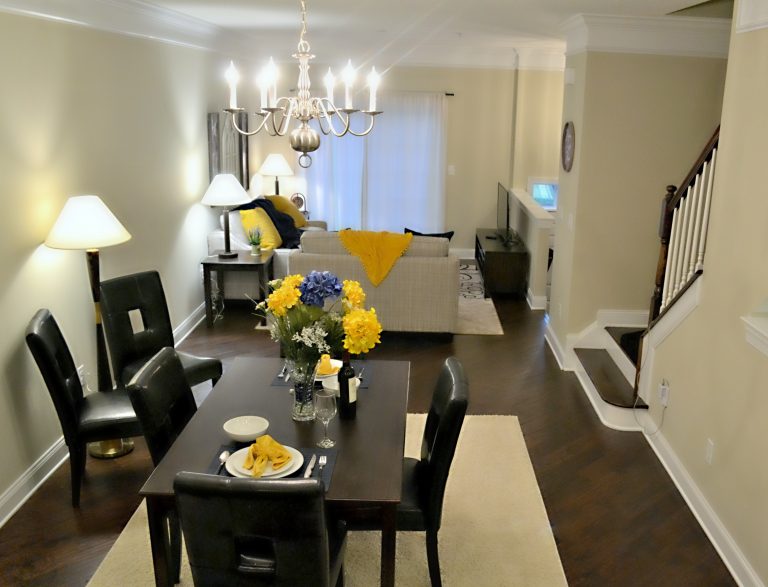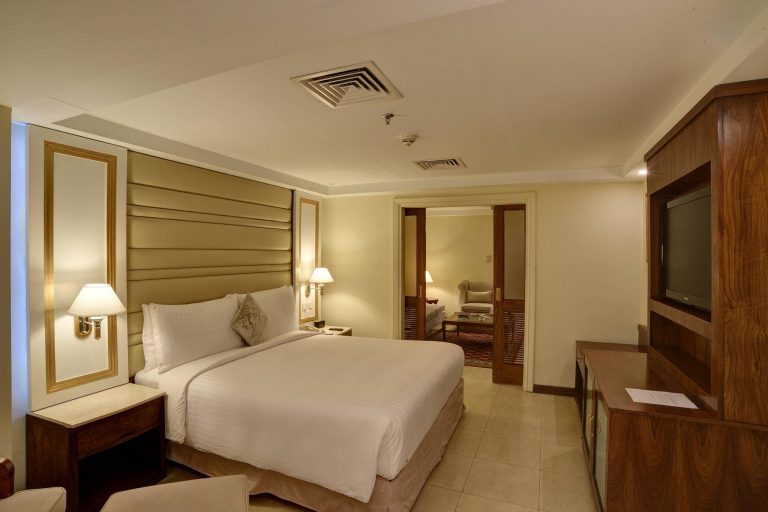 No Need To Start From Scratch
Hotels have consistent brand recognition.  In other words, what you see is what you get. That does bring some comfort to people.  Furnished Apartments equally push their brands for consistency in how they furnish their apartment homes and the type of communities selected to partner in their portfolio. This service is required to help a family thru a difficult time get to their home, feeling comfortable and relaxed.  
Considering what is included, furnished apartments can save you time and money. Furnished apartments are an excellent alternative when you need a new home and don't have time to decorate or buy household items. 
You can have a cozy, well-decorated space without having to start from scratch! You won't have to measure every corner and wall of your apartment, hunt for the perfect pieces, and then struggle to assemble each one! No need to pack things securely to make sure the breakables remain unharmed during the moving process. 
Moreover, there's no need to pack up your old furniture and pay for movers. Or worse, move it yourself and endure enormous back pain. Even better, when you get ready to move again, you won't have to go through the whole process again. 
Convenient and Cost-Effective
Furnished apartments come fully equipped and decorated in an aesthetically pleasing way. You can pack your clothes and valuables and move right in!
No matter where life takes you, you can relax knowing that your move can be both convenient and cost-effective. You can focus on filling out the paperwork and taking care of your family. 
Plus, any help you need will be available instantly. We'll help you keep your furniture and appliances in good working order. 
Plus, if your job requires you to travel or move frequently, your best solution may be to find furnished apartments wherever you live so you do not have to move all your things time and again (based on wherever your job brings you). 
Thus, whenever you require short-term living arrangements, furnished apartments save you time and avoid the trouble of setting up a new home. Plus, when it's time to move on, you don't have to worry about moving anything. Almost none of the stuff is yours, so you don't have to take it with you!
If you are looking for stability and security while you are starting a new phase of your life, the Furnished Apartments of today have got you covered.  Many have garage parking, secure entry buildings, with front desk services.  Electronic locks on your apartment doors.  You typically don't ever have to leave the property to take a swim in the trendy new Saltwater Pool resorts properties are building now.  Hit the Sauna, the Hot Tub, the Cardio Room or the Yoga studio  These properties today have so much to offer. Even free morning coffee in the lobby.  
There's no lack of things to do in your accommodations. With all the advantages of furnished apartments, it would be silly to not consider moving to them. Contact Mark Franklin of Peak Suites. When you move in, you'll agree, "this is good living!"
By the way, you're welcome to visit our Pinterest account for more pictures and ideas.